The Settlements window displays the details of payments made to merchants by DNA Payments. It will only contain data for merchants who use DNA Payments as their Acquirer.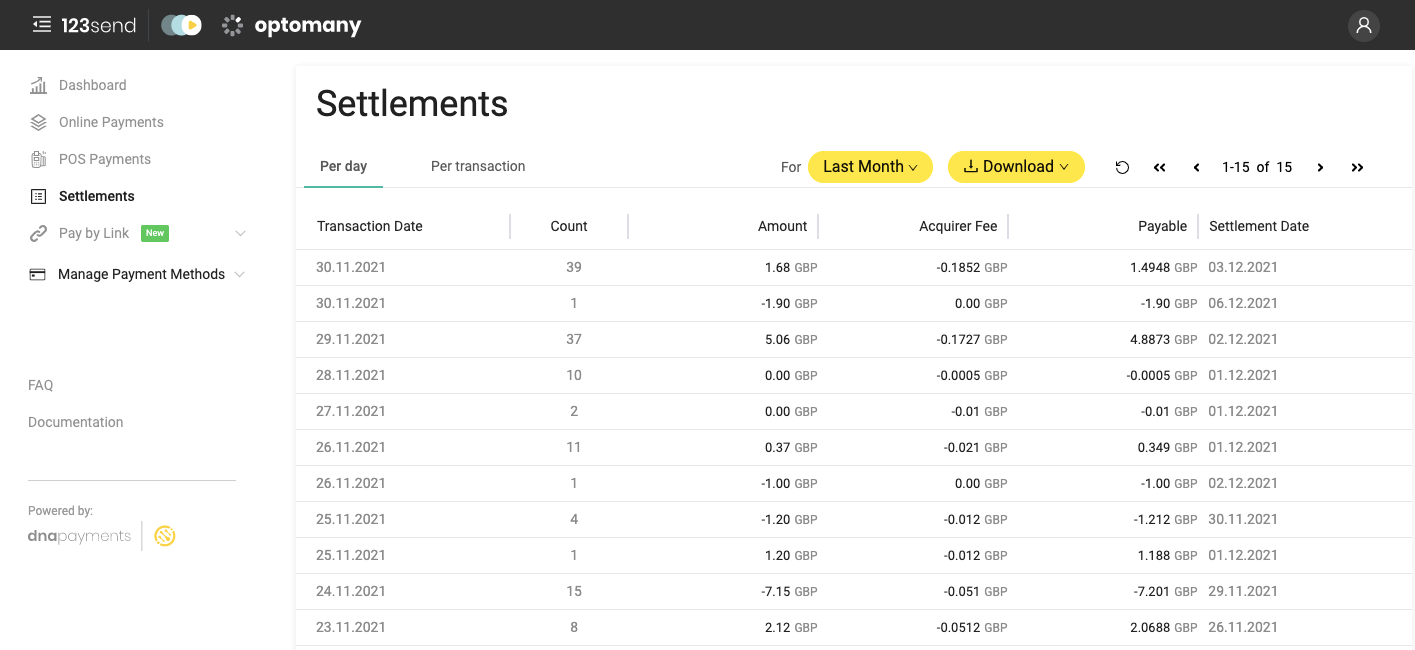 You can view all data either Per Transaction or Per Day. Our example above shows Per Transaction, which is a summary of all payments for a given day.
Column Description
Count: The number of transactions for the given day. Includes both Sales and Refunds.
Amount: The amount of monies due. This is a net figure, with Refunds showing as Minus values.
Acquirer Fee: The fee due for that days payment, calculated according to your Acquirer agreement.
Payable: The Amount less the Acquirer Fee. What you should expect credited or debited on your bank account.
Settlement Date: The date that you will receive the debit or credit.
The Settlement Date is based on several factors and is explained below.
Report Download
You can select Download to export data from the Settlement window to one of these formats:
PDF is best for storing the data for your records, but CSV or Excel are advised if you plan to manipulate or report on the data.
Settlement Breakdown
There are two key steps to our settlement process:
The bankingDate - the date we start the settlement process.
The settlementDate - the date that the partner/merchant receives their funds.
The time between the banking date and the settlement date will vary dependant on the specific arrangement in place:
| Name | Description | Details |
| --- | --- | --- |
| T+1 | Transaction + 1 | The day after the transaction, or the same day as the bankingDate |
| T+2 | Transaction + 2 | Two days after the transaction, or the day after the bankingDate |
| T+3 | Transaction + 3 | Three days after the transaction, or two days after the bankingDate |
The DNA Payments settlement process starts at around 3pm UK time and includes transactions processed between 00:00 and 23:59:59 Coordinated Universal Time (UTC) for the previous day. Funds are settled after this time, on the appropriate day depending on the arrangement as above.
caution
These processes only take place on business days. On Weekends and Bank Holidays, no activity takes place. The bankingDate or settlementDate cannot occur at the weekend or on a Bank Holiday.
The below table shows how the process works when a merchant is configured for T+3.
Week 1
Monday
Tuesday
Wednesday
Thursday
Friday
Saturday
Sunday
Txn 1 processed at 9am
Txn 1 Settlement process started at 3pm


bankingDate

-
Txn 1 Settled to Merchant




settlementDate

-
-
-
When transactions are processed across the weekend, the timings are like this:
Week 1
Monday
Tues
Wednesday
Thurs
Friday
Saturday
Sunday
-
-
-
-
Txn 1 processed at 10am
Txn 2 processed at 3pm
Txn 3 processed at 11pm
Week 2
Monday
Tues
Wednesday
Thurs
Friday
Saturday
Sunday
Txn 1, 2, 3, Settlement process started at 3pm


bankingDate

-
Txn 1, 2, 3, Settled to Merchant




settlementDate

-
-
-
-