Nexgo N86 Terminal
Thank you for ordering the Nexgo N86 payment terminal. In this guide you will find instructions on how to set up and use your new terminal. Your terminal comes pre-configured to your DNA Acquiring account that was set up during the order process. This guide will show you how to connect it to Wifi, process a Sale and a Refund, and some other key functionality.
Unboxing Your Terminal
Before starting to use your terminal, it is recommended that you take a few moments to check the contents of the box. Every N86 package should include:
The N86 Terminal
A UK Power cable and adaptor
A thermal Paper Roll
An N86 Charging base (not pictured)
Powering up & Charging
The N86 terminal is powered on and off via a button on the left hand side of the screen, near the top. Hold it to power off and then select the option on screen. The button is beside the charging port, which uses a USB-C charger (supplied). We would recommend however that your plug the supplied charger into the base and simply place the terminal onto the base to keep it charged.
This charging port allows you to charge the terminal 'on the go' however you will need a USB-C charging cable for this. These should be available separately from most electronics resellers.
Home Screens
The N86 will load up initially to a Sale screen, shown below in the middle. The Home Screen on the right is where we start most of our guidance from however. Should you need to get back to this screen, simply press the arrow button at the bottom until you see the main screen on the left.
Upgrade Available
If your N86 looks like the below, you are eligible for a free upgrade!
We would like to swap your terminal for the same model but running our newer and more stable axept® PRO payment application. Please contact our support team by emailing support@dnapaymentsgroup.com. Please ensure you include your DNA Merchant ID and your N86 Serial Number (found on the back of the terminal).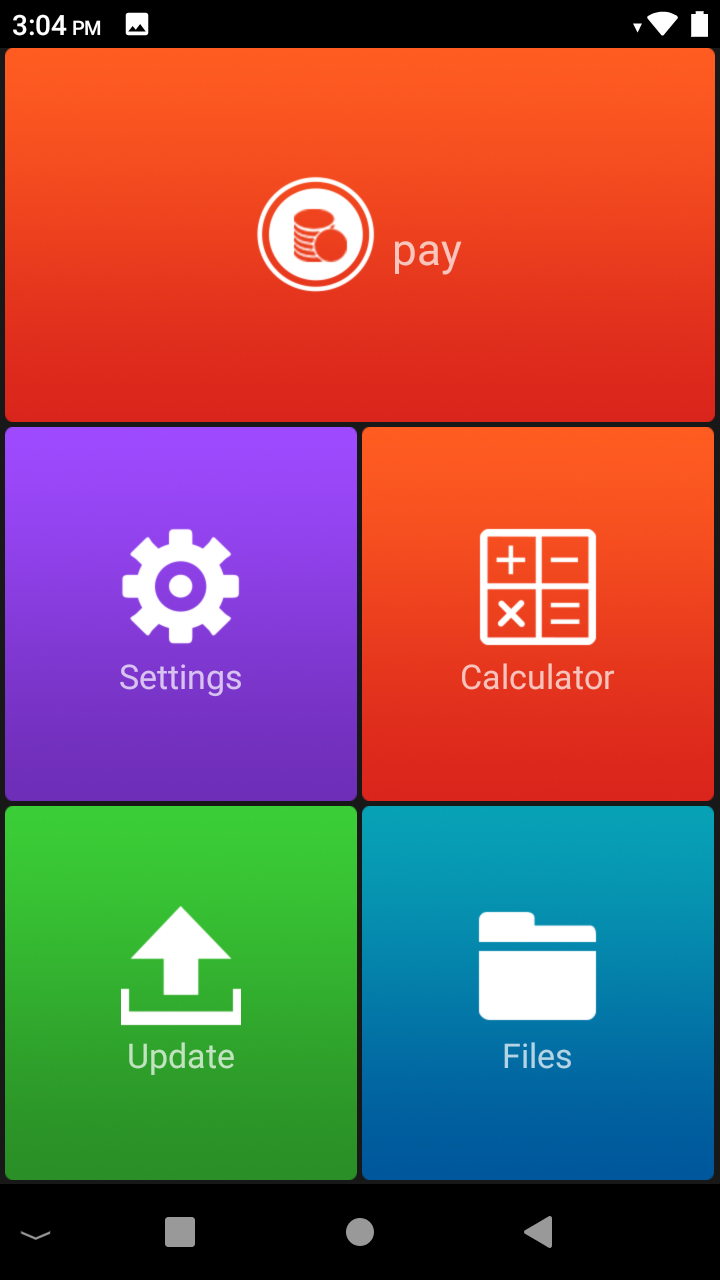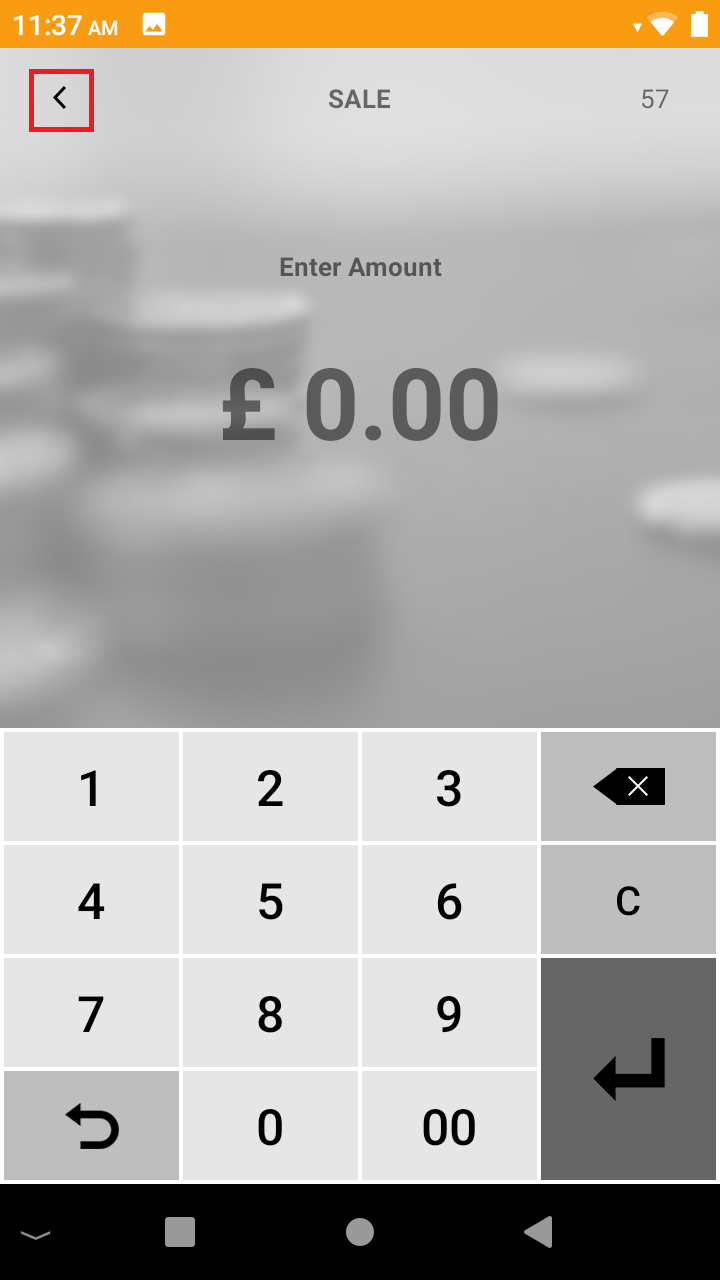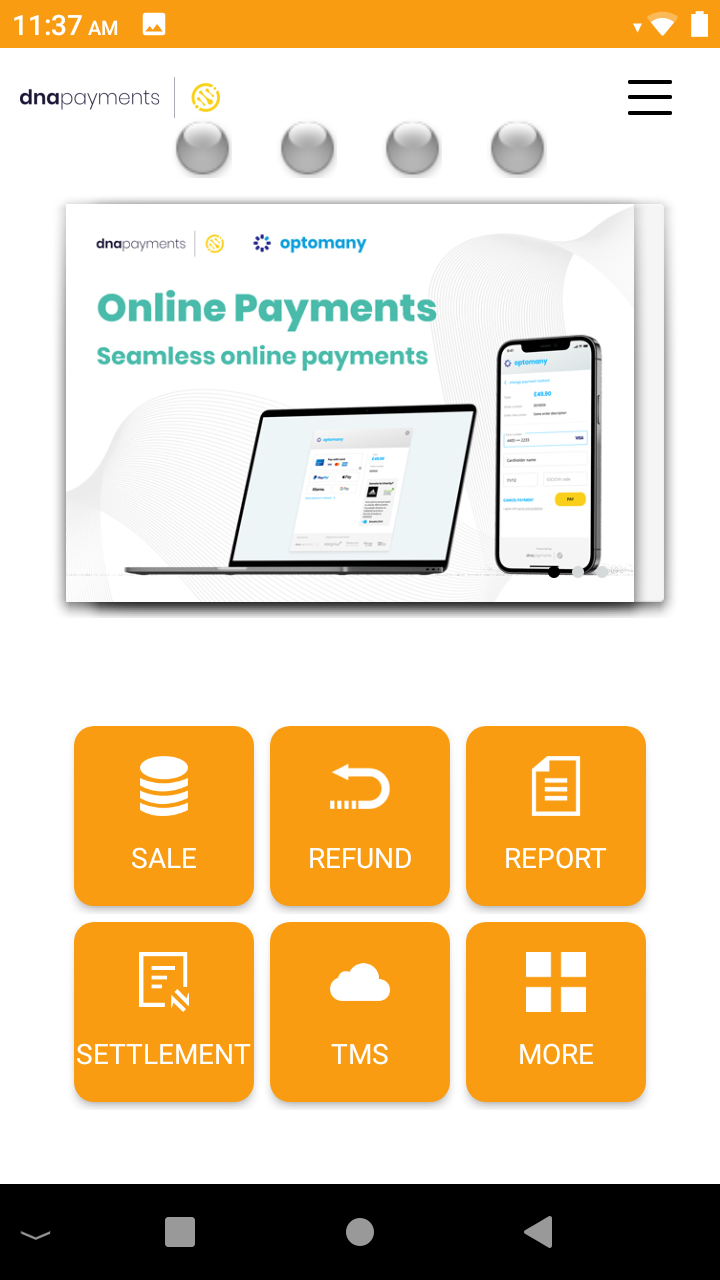 You can press then Pay at the top to see the Sale screen, and back (at the top) to get to the Home menu.
How to use this guide
The next few pages are designed to get your new terminal connected to Wifi and processing your first transaction(s). We then show you how to complete settlement and also how to report the last few transactions.
We know that not everything goes according to plan first time, so if you experience any problems at all with your new terminal, please contact our customer support team on the details below.
123 Send Customer Support
Customer Support Hours
| | | | |
| --- | --- | --- | --- |
| Days: | Monday - Saturday | Sunday & Bank Holidays | Christmas Day |
| Hours Covered: | 08:00 – 23:00 | 10:00 – 17:00 | Closed |
Should you need any additional equipment, such as more receipt rolls, then please do not hesitate to get in touch.