Existing Merchant Order - Partner
There are occasions where an already boarded merchant wishes to order additional products and services. The Order Portal also allows these orders to be placed.
It is a 3-step process:
Merchant Selection
Store/Dept creation/selection
New Bundle selection
Merchant Selection
Firstly, click on the order type filter and select an existing merchant.

Once selected the Order Portal amends the search bar and allows a search to be performed using either the Merchant's name of the Merchant ID (MID).

The Order Portal displays the merchants which match the selection criteria entered. Choose the required Merchant from the list.

Store/Dept creation/selection
Process variations
If you do not see this page here, you may be set up as a ISO instead. Please check this with your Account Manager if this is not correct.
Once selected the Order Portal will download the information from the Optomany Platform for the merchant, including existing Merchant Stores & Departments. Once the merchant information has been downloaded the Order Portal displays it in the Stores & Departments view.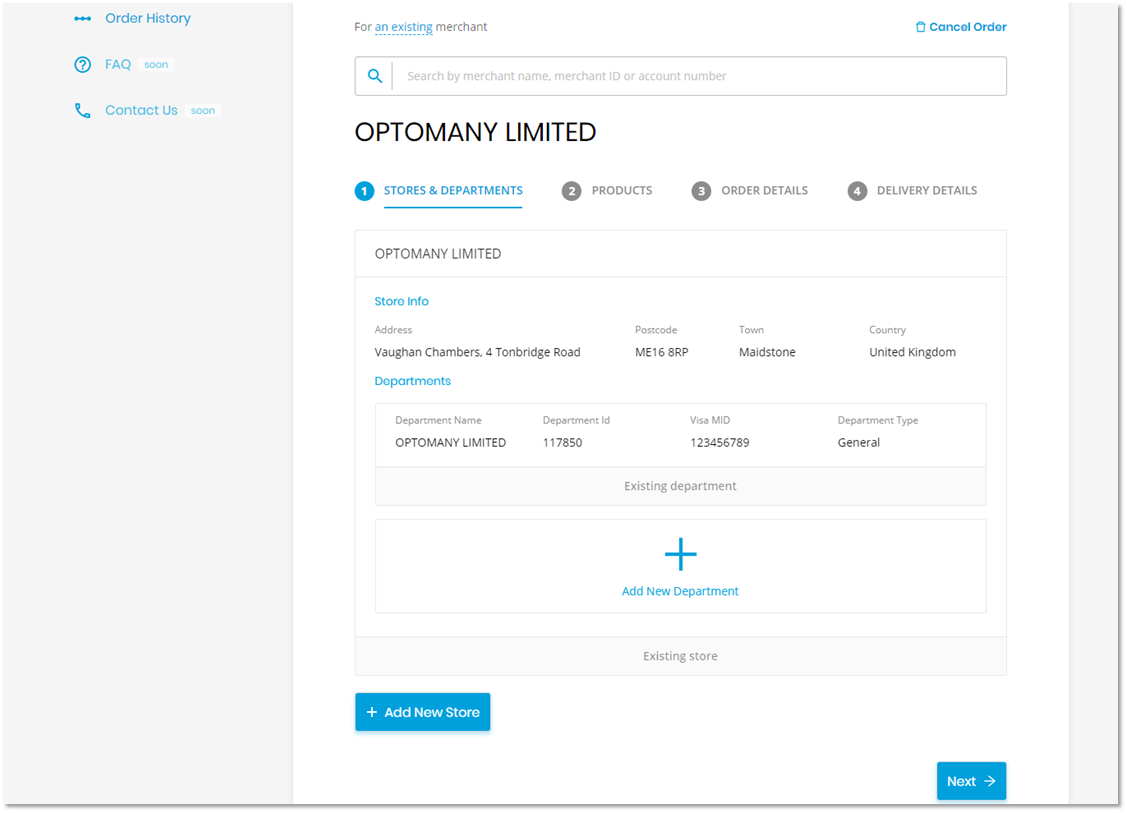 From this screen any new Merchant Stores or Departments can be added, in the same way that this is done in the New Merchant flow. When all additions have been made, or if none are required, click the NEXT button to continue.
New Bundle selection
The Order Portal then provides the option to add new bundles to any of the Merchant Stores & Department combinations for this merchant, including any new ones that have just been added.
From this point the order flow is identical to a New Merchant > Ordering Products flow.